Navigator Gas Shipmanagement Ltd gains ISO 45001:2018 certification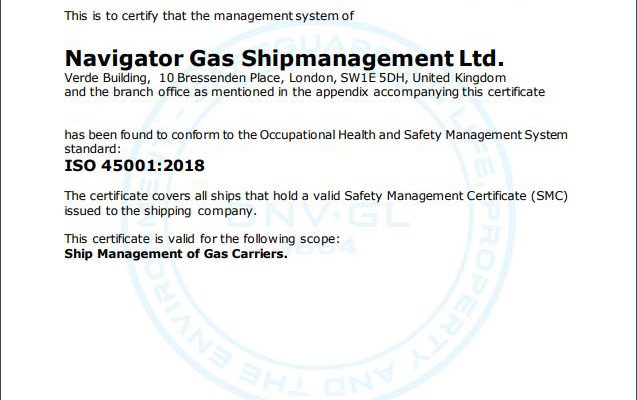 Another milestone for Navigator Gas Shipmanagement.
After intense auditing in both our shore based offices and onboard several of our managed vessels, we have successfully achieved ISO 45001:2018 Occupational Health & Safety certification. This is an international standard that specifies the requirements for an Occupational Health and Safety (OH&S) management system, that demonstrates our organization has systems and processes in place to constantly and proactively improve its performance in preventing injury and ill-health, while promoting other aspects of health and safety, such as worker wellness and wellbeing.
Paul Flaherty, Director of Fleet and Technical Operations added "This is a magnificent achievement on addition to being awarded ISO 9001 certification, as recently as October. Our in house management team and the officers and crews onboard our managed vessels have successfully demonstrated the very high quality of our safety management system in achieving this standard. They should be justifiably proud, as I am, for making Navigator Gas Shipmanagement one of the very first companies in the world to be awarded the ISO 45001 standard."